---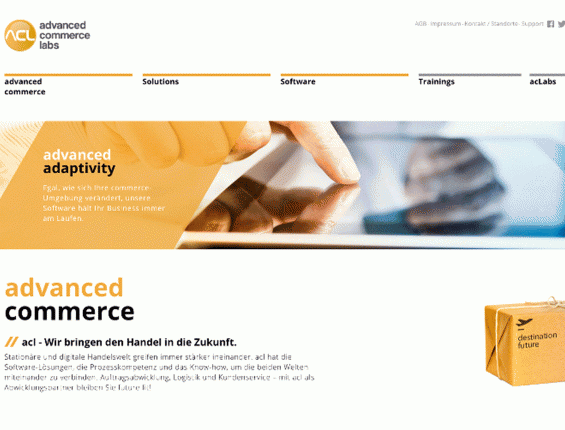 Graz-based e-commerce software house acl advanced commerce labs has entered into a strategic alliance with Austria's largest logistics provider. In addition to a far-reaching cooperation between the two companies, acl owner EOSS Industries sealed a strategic investment of 30 percent in acl by Austrian Post.
EOSS Managing Director Thomas Erkinger is delighted about the partnership with the logistics market leader: "As a company developer, we are constantly working on innovation and growth in our subsidiaries. A close strategic partnership with an international player like Austrian Post is a particularly welcome form of accelerating corporate development." In addition to the potential on the Austrian market, he also sees joint growth opportunities in Southeastern Europe, where Austrian Post already has a very strong presence from Poland to Turkey.
ACL Managing Director DI (FH) Andreas Pesenhofer sees the strategic partnership with Austrian Post as a clear confirmation of the previous orientation and is looking forward to the cooperation. "In addition to our international activities, the future cooperation will result in business tools that will give Austrian customers a decisive market advantage when it comes to e-commerce solutions," says Pesenhofer.
Entering new, growing business areas that consolidate and expand Austrian Post's offering in a meaningful way is an essential part of Austrian Post's strategic orientation. "With our stake in ACL, we are delving deeper into the topic of e-commerce and will be able to offer our customers even more service-oriented and simpler one-stop solutions – from online marketplaces to fulfillment and transport," says DI Peter Umundum, Member of the Management Board of Austrian Post responsible for Parcel & Logistics, about the partnership and the acquisition of the ACL shares. Austrian Post employs more than 23,000 people in a total of twelve European countries. In Austria, it is the leading logistics and postal service provider, and abroad, with a focus on Southeastern Europe, it is primarily active in the Parcel & Logistics and Unaddressed Mail Divisions.
ACL is a leading service provider in the field of e-commerce solutions for large retailers in Germany, Austria and Switzerland. The company employs around 100 people in Austria and Germany. With in-depth process expertise in digital commerce and professional software solutions, the company connects the online world with brick-and-mortar retail. ACL offers its customers – including retail giants such as dm Drogeriemarkt, Adler, Hervis or Kastner&Öhler – turnkey software solutions as well as numerous services that are necessary for the operation of a "digital store".